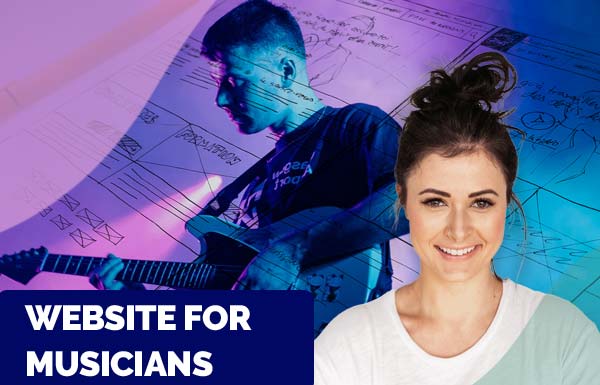 Website For Musicians
If you want to create a website for your band, you will probably need a website builder, which is the best for musicians. A good website builder will allow you to create a place for hosting your work, keep your fans updated on interesting topics and so on.
The selection of a relevant website builder will depend on the main goal of your site. It can be a fanbase or selling music and merchandise, etc.
In this article, we will explore the top website builders, which you can consider for your website.
Shopify (Free Trial)
If you are looking to build your musicians website as quickly as possible and you are thinking of selling merchanise on your website, Shopify should be on your list. Shopify have lots of prebuilt easily customisably musician templates that should get you started straight away.
Wix (Free Trial)
Wix allows to easily create a music site from scratch. This is due to efficient drag and drop tools.
In Wix, you may choose a template created specifically for musicians. Moreover, the templates are categorized in Wix in a very convenient way for musicians. You can also let the website builder find a relevant template answering a few questions. The platform will use Wix ADI (Artificial Design Intelligence) system and create a website based on your answers.
Wix has the advantage to be a musician-friendly website builder and you may connect to your website your social media channels as well as videos and other media.
You can sell music and merchandise from your Wix online store without paying any commission. The website is also mobile-friendly.
Ogilvy
Squarespace (Free Trial)
Squarespace is famous with premium design, as well as flexibility and reliability. They have a high number of templates, including options for music and entertainment.
You can easily setup an online shop to sell music or merchandise on Squarespace.
Besides, it allows integration with Eventbrite, Soundcloud and the main social networks. All this is possible without installing additional plugins.
Squarespace provides its users with unlimited storage and bandwidth, and it has a free trial version.
Ogilvy
Music Glue
You may use Music Glue if your primary goal is to conduct Ecommerce. Music Glue works with many famous acts like Metallica.
You can create a mobile-friendly website for free using Music Glue and do not think about monthly charges. However, the platform will take a 10% commission from your income.
The number of templates is limited, but you can customize a template without any difficulty.
One more benefit you can gain with Music Glue is creativity. It allows you to conduct pre-order marketing campaigns, merchandise bundles and VIP ticket packages for your fans.
Ogilvy
BandVista (Offers A Free Trial)
BandVista is a simple and mobile-friendly website builder for musicians.
BandVista offers music player integrated in the website, which will allow your fans to listen to your music. You can also upload here videos from Youtube, Vimeo and Facebook.
You can use blogging to inform your fans about your activities as well as Email signup widget to share a content with them regularly.
You can easily create a simple online shop, although keep in mind that Ecommerce is not a very developed feature in BandVista's portfolio. There is good news here that there will be no commissions on your earnings.
Ogilvy
Difymusic (Do It For Your Music)
A group of industry insiders who understand the problems and needs of musicians created Difymusic. Difymusic does not have huge options of design tools and functionality, but you can use this website builder if your primary purpose is to quickly get your music online and sell music or merchandise. You need to make a one-time payment of a EUR9.99 to setup an online shop. Besides, there is a commission fee on sales ranging from 5% to 20%.
The website is very user-friendly and you do not need specific knowledge to be able to use it.
You can add music to your website from Spotify, Apple Music and many other online music platforms.
Ogilvy
Tumblr
Tumblr is a budget website builder with a list of free features and tools for musicians.
It is mainly a blogging website, but it has many interesting features such as possibility to customize your blog using wide range of themes. There are also paid options for advanced themes.
Tumblr allows to upload 10MB of MP3 files daily and this is a great opportunity for musicians.
Ogilvy
Website For Musicians Verdict
This list is not exhaustive and if you still cannot decide which web builder to choose, you can go on with a further research.
Scroll down to read our indepth Website Builder Platforms guide. What you should know, Website Builder Platforms features, price plans and support. Pros and Cons of Website Builder Platforms as a ecommerce, everything is explained below.
Shopify is a software company that specialises in ecommerce software for small to enterprise level businesses.
Shopify is listed as the best ecommerce software related to Website Builder Platforms. Shopify was founded in 2006 in Ottawa, Canada and currently has over 6,124 employees registered on Linkedin.