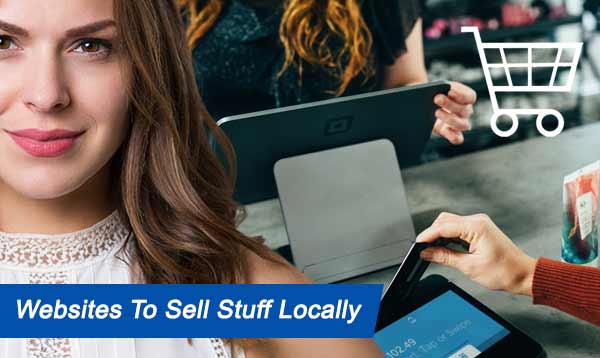 Websites To Sell Stuff Locally
On local sales websites, you can sell almost everything. Here is a shortlist of the popular products online for people to purchase and sell:
Clothing and accessories
Home and furniture accessories
laptops, technology, and phones
CDs, books, DVDs, and games
Motorcycles and cars
Accessories for kitchen
Dining Sets and crockery
Children and baby products
Benefits Of Selling Stuff Locally On Websites
The buyer or seller has no postage charges
free of charge to List products on these pages
Instant cash payment
The chance of scams is less when you face each other
Excellent for taking away a lot of things in one go!
These Are The Best Websites To Sell Stuff Locally
eBay
eBay
You have to set up a few options on your page if you are selling a big item that you are not willing to ship. Tap on the more link connected in the field for 'Additional checkout instructions.' Paypal will be accepted or paid upon pick-up. Tap on the drop-down list under 'Shipping Information' and change the shipping alternative to Local pickup only.
Craigslist
Craigslist
As a salesperson you should post a listing and wait for purchasers to contact you; simply click on create a post on your homepage and complete the details you need. But, the website is now a breeding ground for scammers so don't be surprised when you get many messages from con artists who are trying to cheat you out. Unlike eBay, if you get scammed, Craigslist has no insurance or security in place to pay you back.
There are certain guidelines to follow to protect yourself from the bad guys. You should not allow check deposits, cash orders, or even PayPal. Only insist on cash and local collection.
Facebook Marketplace
Facebook Marketplace
Open marketplace and press Selling Something (desktop) or Sale for mobile, If you have something to sell. Choose the kind of item that you wanted to sell. Complete the information, titles, costs, location, explanation, and pictures before posting. Then you wait for them to contact you.
LetGo
LetGo
You need to have a website account first to sell an item on LetGo. To build a list of the products, click the Sell Your Stuff tab. Upload photographs of your products set a price, and provide more information to remind purchasers about their choice. Then wait before someone gets in touch with you.
OfferUp
OfferUp
Build an account on the website to sell an item on the OfferUp. You would also use the mobile app to post-sales products. To download the app, press the Sell button at the bottom of the page of the app store or Google Play. Include photographs and titles, choose the class and site, add a summary, and enter the price before publishing.
These Are Tips For Selling On Local Selling Sites
Cash in hand is the easiest thing to trade locally! This is much more than to expect a purchaser to pay or sell to other platforms.
Be Honest With Your Description
Don't deceive the customer in whatever you are offering! Make sure you are totally transparent and take good pictures of the products with any issue it might have.
Provide The Best Possible Detail
Aim to provide as much detail as possible in the lists to prevent the hassle of answering a million questions. For example, if you sell a pair of trainers, you should make the description:
Brand (if it is a special edition)
Size
Condition
Material
Get The Best Pictures
As I said earlier, if your pictures are straightforward and light, you would get even more interest from prospective customers. Take pictures of items like marking and other information in the space of your house with the best sun. Take advantage of the image allowance to give your item the highest-selling opportunity and view the item as much as possible.
Answer Questions Quickly
Buyers want quick answers on the website, and they will generally carry on quickly if you don't answer for hours. Install local sales applications to quickly receive and respond to any notifications on your phone.
Scroll down to read our indepth Ecommerce Platforms guide. What you should know, Ecommerce Platforms features, price plans and support. Pros and Cons of Ecommerce Platforms as a ecommerce, everything is explained below.
Shopify is a software company that specialises in ecommerce software for small to enterprise level businesses.
Shopify is listed as the best ecommerce software related to Ecommerce Platforms. Shopify was founded in 2006 in Ottawa, Canada and currently has over 6,124 employees registered on Linkedin.