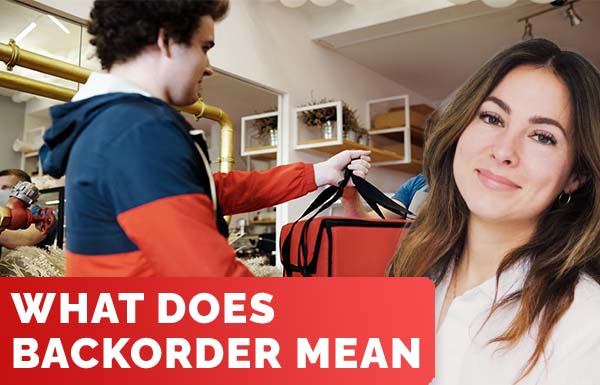 What Does Backorder Mean
Meaning of Backorder
Backorder is an order for a good, service, or material that cannot be filled at the moment because of lack of supply. Backordered goods are not available at the time of sale but are expected to be available in the near future. The goods might still be in production at the time of sale.
Backorder shows that demand for a product is more than the supply. A backorder can be referred to as a company's backlog.
The number of products back-ordered affects the amount of time needed for customers to receive the ordered goods. Understanding Backorders.
Backorder is the total number of goods a company's customers have ordered and are yet to be received because it is not currently available in stock.
The fact that a company lacks a supply of inventory does not mean that it cannot work on backorder. Having inventory on backorder helps to boost demand, and create value for the goods.
The number of backorders and time needed to meet these customer orders can give an overview of how the company manages its inventory. A slightly manageable number of orders and a small turnaround time to meet the demand means that a company is doing well.
Causes Of Backorder
Backorder happens for numerous reasons, while some can be prevented, some cannot be prevented.
High demand: Backorder will likely happen when there is high demand for a product. This can happen when your product is named or featured in an exclusive list, having a social media influencer post your item on their social media page, etc.
Low safety stock: Safety stock is the extra product you keep to reduce stockout or supply chain failure which makes less than the required inventory to be available. If a product's safety stock is not counted correctly, the company will likely experience Backorder because of inadequate stock.
Problems from manufacturer or supplier: A backorder can happen if a manufacturer or supplier runs out of materials needed for the production of goods.
Tips For Reducing Backorders
Although backorders are not planned and sometimes unavoidable, there are some measures you can use to minimize the likelihood of backorder happening.
Below are 5 tips on how to reduce backorders
Set Safety Stock
Business owners should have an inventory storage system that checks the stock product so they don't disappoint customers. Try to predict demand and sales orders by checking a safety stock point that covers extra demand or supply issues. This strategy will help to prevent businesses from running out of stock
Evaluate And Set Reorder Points
Reorder point is the particular level of your stock that needs to be replenished. The formula is demand plus safety stock in days. To avoid backorder, you have to reorder once your stock gets to a predetermined level.
Businesses should account for promotion, product launch, flash sales, etc., and use the previous order information to increase the reorder quantity.
Always check inventory levels of sought-after products
The most sought-after product sells out fast, so ensure to keep a record of their stock level. Always be on the lookout for the inventory of popular products so as to inform purchase order decisions.
Use Multiple Suppliers
Working with numerous suppliers has a great benefit as it helps you to have another supplier when the manufacturer can meet up with the product requested on time.
Order More Goods
Make the best use of your storage space by ordering more goods and reduce the chances of having backorder issues. But you have to be careful to avoid clogging storage space, and increasing inventory carry costs as this can tie up the money you can use for running other aspects of your business.
The Negative Effect Of Backorders On Businesses
Below are some negative effects of backorders on businesses
Cancellation of orders: Some customers can cancel their order if it takes a longer time for them to receive the product they ordered.
Payment processing problem: Some customers will change their mind about getting a product if the payment option they used to preorder for the product has an issue along the way.
Scroll down to read our indepth Ecommerce Platforms guide. What you should know, Ecommerce Platforms features, price plans and support. Pros and Cons of Ecommerce Platforms as a ecommerce, everything is explained below.
Shopify is a software company that specialises in ecommerce software for small to enterprise level businesses.
Shopify is listed as the best ecommerce software related to Ecommerce Platforms. Shopify was founded in 2006 in Ottawa, Canada and currently has over 6,124 employees registered on Linkedin.