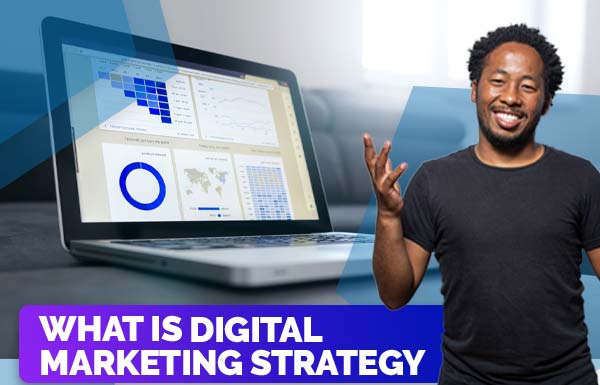 What Is Digital Marketing Strategy
In these days, the main part of the marketing strategies of all industries is digital. This is because customers and businesses are online and you need a digital strategy to reach them.
In this article, we will discuss how to create an efficient digital marketing strategy.
The Definition Of Marketing Strategy.
It is a plan aimed to reach a certain marketing-related purpose using concentrated and achievable means. Your marketing strategy will heavily depend on the type of your business.
A marketing strategy, as well as all kind of strategies, consists of the following three parts:
Setting your challenge
Defining the policy to deal with the challenge
Set targeted actions to realize the policy.
The specific actions, which you choose to reach the goal of your marketing strategy, are marketing tactics.
In brief, a strategy is your focused plan to reach your goal, and tactics are definable steps in the framework of your strategy, which help you achieve your goal.
Basic Marketing Strategies
Here are some examples of marketing strategies:
Publication of a blog
Ads on social networks such as Facebook Ads or Instagram Ads
Offering free tutorials
SEO optimization of your website
Conducting a webinar, etc.
Definition Of Digital Marketing Strategy
A digital marketing strategy aims to achieve your digital goals using paid, earned and owned media.
Digital Marketing Campaign
Digital marketing campaigns are the concrete actions in the framework of your digital marketing strategy, which help you in achieving your targeted goals.
Steps To Create A Digital Marketing Strategy
There are seven basic steps, which will help you to create your digital marketing strategy.
Build the profile of your buyers
Defining your goals, as well as necessary digital marketing tools
Evaluate available digital channels and assets
Implement audit and planning of your owned marketing campaigns
Implement audit and planning of your earned marketing campaigns
Implement audit and planning of your paid marketing campaigns
Summarizing your digital marketing campaign.
Lets discuss each of them.
1. Build The Profile Of Your Buyers
Buyer personas represent your ideal customer. You can create them by doing researches, surveys and interviews with your target customers.
You can also create the personas of your buyers by the segmentation of your audience. Here are some examples of information you will need to create a useful buyer persona.
Quantitative and Demographic Information
Geographical location
Age of customers
Income
Job Title
Qualitative and Psychographic Information
Goals of customers
Challenges
Preferences/Interests
Priorities
Your marketing goals must always be connected to the main purpose of your business.
It is important to be able to measure the achievements of your strategy using the right digital marketing tools.
3. Evaluate digital channels and assets available for you
Before including different digital marketing channels in your digital marketing strategy, you should analyze what you have. Explore all of them in order to understand your owned, earned, and paid media.
This includes the digital assets, which are the ownership of your company (your website, social network accounts or blog content). Owned media can also include your any off-site content.
Earned media is what you have earned as a result of implementation of word-of-mouth marketing. You can earn media via distributing content, using PR or delivering a customer experience. In brief, earned media is your recognition.
Paid media includes paid channels or assets, which you buy to attract your buyers' attention. For example, paid ads, paid or sponsored social media posts, etc.
4. Implement audit and planning of your owned marketing campaigns
Owned media almost always has the form of content. About us site page, description of products and services, Ebooks, infographics – all these are content.
Audit Your Existing Content
Analyze your existing owned media, assess them in accordance with the previous experience. You need to understand what is working well and what is not to be able to plan your future content correctly.
The next step is to identify the gaps in your content and based on that develop your content creation plan.
5. Implement audit and planning of your earned marketing campaigns
As in the previous step, you have to evaluate and analyze the efficiency of your earned media. This is to understand where to concentrate your time.
6. Implement audit and planning of your paid marketing campaigns
The process is again the same. The idea is to understand where you should invest your money and where not. The result would be to have the clear picture of which paid platforms you will continue to use and those you will remove from your digital marketing strategy.
7. Summarizing your digital marketing campaign.
After implementing the mentioned steps, you have to bring them together and summarize in your document.
Scroll down to read our indepth Ecommerce Platforms guide. What you should know, Ecommerce Platforms features, price plans and support. Pros and Cons of Ecommerce Platforms as a ecommerce, everything is explained below.
Shopify is a software company that specialises in ecommerce software for small to enterprise level businesses.
Shopify is listed as the best ecommerce software related to Ecommerce Platforms. Shopify was founded in 2006 in Ottawa, Canada and currently has over 6,124 employees registered on Linkedin.