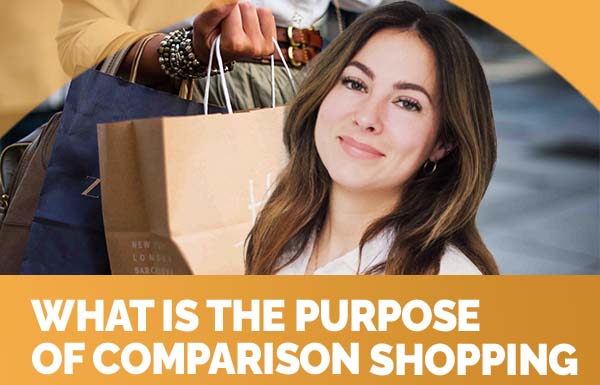 When it comes to shopping, price is usually an end-all-be-all factor. The goal of many consumers is to get their desired product of good quality but at the most reasonable price possible. For this reason, consumers have devised a means to fish out the best possible product that sells at a great deal. They often engage in an act called comparison shopping. This article takes you through the meaning of comparison shopping and how you can avoid it as a business owner.
Comparison shopping is a strategy used by consumers which involves comparing items from different companies based on price before they make a purchase. Due to the scarcity of money, consumers are careful to buy products and services at a good price. So, they engage in comparison shopping.
Comparison shopping can be done in brick-and-mortar stores and e-commerce stores. For brick-and-mortar stores, consumers often go from store to store to enquire about the price of a particular product. When they have visited a good number of stores and made enough inquiries, they weigh all options. They look at each company, their standards, ratings, quality, and most importantly, they consider the price. Price is often at the top of the list of things to consider when making a purchase. Having compared all products, they look for the one with the best price for which they can attain good quality and they make their purchase.
With e-commerce stores, comparison shopping has never been easier. Consumers can easily use a comparison shopping engine that will produce results of different vendors selling their desired items with stated prices. This is a better alternative to going physically from store to store to make a comparison. Examples of comparison shopping engines include Shopzilla, Google Shopping, Pricegrabber, among others.
The act of comparison shopping conducted by consumers can negatively harm your business. Comparison shopping entails that aside from your business, there are other possible options that a consumer can choose from. For this reason, it is important to implement some strategies to engage consumers, and ensure that they do not have to think twice before purchasing your product.
Identify the needs of the consumers
When a consumer is on the quest of comparing items, they usually have some things in mind that would help them make a great choice. It is important to understand those factors and see how you can use them to the advantage of your business. Some of these factors include price, quality, uniqueness, and review. To harness this tool, improve your business in the areas mentioned that stand out among others.
Create a persuasive copy
An important tool used to draw the attention of people is words. Constructing your copy in either your landing page, product description, sales, or ads, in a compelling way is very essential in the performance of your business. Your copy should make your products look very enticing in the eyes of customers. It must be so captivating that they don't have to think twice about if they are making the right choice.
Ensure a wide brand exposure
People are often driven to buy something that triggers their memory. Simply put, consumers would more likely purchase things that they are familiar with. Instill your brand in the heads of consumers even if they don't make an immediate purchase. This can be achieved through the power of advertising. When people have seen your products enough times, they would be pushed to make a purchase when your product is desired.
Provide credible social proof
Consumers are more likely to believe the reviews and feedback left by other consumers. There seems to be more credibility when other people leave comments on products that they have previously used. So, it is important to provide testimonials, and feedback received from previous buyers.
Since comparison shopping has been used by consumers for the longest of time, it seems very challenging to make your business stand out that consumers don't have to contemplate o buying your product. There is no doubt that earning consumers' trust is not easy but with the right strategies, it could be made easier.
Scroll down to read our indepth Ecommerce Platforms guide. What you should know, Ecommerce Platforms features, price plans and support. Pros and Cons of Ecommerce Platforms as a ecommerce, everything is explained below.
Shopify is a software company that specialises in ecommerce software for small to enterprise level businesses.
Shopify is listed as the best ecommerce software related to Ecommerce Platforms. Shopify was founded in 2006 in Ottawa, Canada and currently has over 6,124 employees registered on Linkedin.