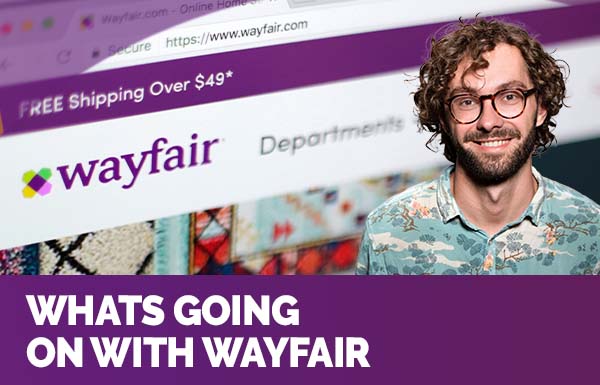 Whats Going On With Wayfair?
Wayfair is a US-based company that sells expensive furniture. And just recently, Wayfair has been under the spotlight because of a conspiracy theory including allegations of child trafficking.
The bizarre conspiracy has spread like wildfire and damaged the public image and reputation of Wayfair.
The first unfounded claims were made on 14 June and Wayfair has claimed theyre false! In this article, I will further discuss the conspiracy theory and explain whats going on with Wayfair at the moment. I will also share advice on how these things should be handled in the future.
Whats The Wayfair Conspiracy Theory?
The untrue and unfounded claims took root in the QAnon community. Allegedly, this community believes in a conspiracy theory that theres a secret plot by a "deep state†against Trump and Trump supporters. A popular activist shared a tweet about the insanely high price of storage cabinets being sold by Wayfair and pointed out that most of the storage cabinets were labeled with female names.
This encouraged followers to incorrectly spread that the high prices of furniture pieces actually had kids hidden in them as a part of an alleged child trafficking ring. A month later, the tweet resurfaced on a Reddit group named "r/conspircyâ€. The conspiracy theory took a new, even more, disturbing turn. People were making connections between cases of missing kids in the US and the names of the pieces of furniture sold by Wayfair.
However, some of these missing kids are no longer missing. In fact, a girl who was also mentioned when a cabinet with her hame came up and was connected to the alleged child trafficking ring appeared on Facebook live opposing the allegations.
Wayfairs Response To The Conspiracy Theories
Wayfair has explained that they dont choose the name of their products but use a name algorithm. Its common for companies to use first names to label their products. The company acknowledged that their high prices may have led to confusion. However, they also stated that their cabinets were industrial-size products intended for commercial or business use.
A spokesperson told the media outlets that theyve taken down the products from their website to give them other names and provide a more detailed description and images to clarify the prices. Youve probably heard of the $10K personalized pillows that were also associated with child trafficking. However, Wayfair said that this occurred due to a glitch on their site.
What Companies Should Learn From The Wayfair Conspiracy Theory?
The rumors about Wayfair being involved in a child trafficking ring were debunked, but Wayfair will have their name linked to this conspiracy theory forever. So, what can other companies learn from this unfortunate situation and protect their business?
First and foremost, they should cut the roots of allegations. In this case, the false allegations started on Twitter, moved to Reddit, and quickly took a life of their own all over social media. And everyone ate those rumors up! Instead of verifying the legitimacy of sources, people spread the rumors and went on a rollercoaster of falsely accusing Wayfair of doing something very disgusting. In cases like these, companies shouldnt stay silent and wait for the dust to settle but come out and fight rumors with facts.
Good management advice for companies is to act very quickly and cut rumors in their tracks, so they should closely monitor social media platforms. That way, they can prevent comments from turning into full-blown allegations that can negatively affect their business.
Wayfair chose to stay silent on the allegations. And that was their biggest mistake! Meaning, businesses need to come out publically and set the record straight fast before someone else weaves a tale in their name. If youre a business in this position, I would suggest that you stay transparent and open to hard decisions like breaking connections with members of your organization. And remember, always be upfront and state your truth.
Every company goes through a crisis. Its part of business. If you are a business owner learn from how Wayfair handled the situation.
Scroll down to read our indepth Ecommerce Platforms guide. What you should know, Ecommerce Platforms features, price plans and support. Pros and Cons of Ecommerce Platforms as a ecommerce, everything is explained below.
Shopify is a software company that specialises in ecommerce software for small to enterprise level businesses.
Shopify is listed as the best ecommerce software related to Ecommerce Platforms. Shopify was founded in 2006 in Ottawa, Canada and currently has over 6,124 employees registered on Linkedin.